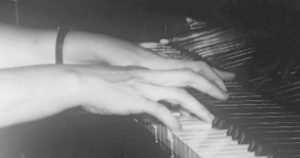 Cynthia is a passionate and dedicated teacher. She teaches classical, jazz, pop, and improvisation to adult and young beginners, intermediate and advanced pianists. She works with professional songwriters and pianists on form, phrasing, improvisation, applied music theory and how to talk to the band. She is a vocal coach and clinician, and teaches group piano classes. Her students include award-winning songwriters, a finalist in the Thelonious Monk Jazz Vocal Competition, classical cellists daring to improvise, and six-year-olds enchanted by the pizzazz of Old MacDonald.
Cynthia started with classical training, together with her own exploration of rock, musical theatre and composition. She studied Performance, Jazz Composition and Arranging at Berklee College of Music. Then as her jazz career took off, also performed with reggae and calypso bands. She is musical director for musicals, singer/songwriters, opera, light opera, and her own jazz ensembles.
With this rainbow of experience, Cynthia's teaching style is fluid, inclusive and broadening. Her students begin to move immediately toward their stated goals. And they are also likely to begin enjoying aspects of music they had never considered. For some idea of Cynthia's delight in teaching, read her poem, "Giggling Future Composers".