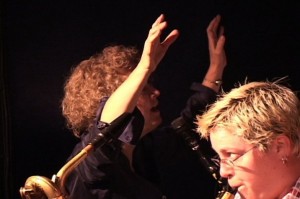 LYRIC FURY –
Great name for an eight-piece ensemble of stellar jazz musicians, right? And even better, they really are both lyrical and furious, with a good dose of organic humor.
Lyric Fury released their first CD on Blond Coyote Records on January 13, 2017, to widespread critical acclaim.
"Lyric Fury is the sound of a mature voice expressed in compositions of great depth,
and the soloing raises the bar even further."
Ken Micallef – DownBeat
CLICK HERE FOR PREVIEWS OF THE NEW CD

"There are some mighty players in Lyric Fury and even so they are secondary to the sum of the parts. A wonderful record and some heavy compositions."
Robert Rusch – Cadence Jazz
Cynthia Hilts created Lyric Fury to play her most evolved compositions. The members are mostly composers and bandleaders themselves – four horns, cello, piano, bass, drums and occasional voice. Together they form that rare and exhilarating musical entity, a true ensemble. And when they swing, it's deep.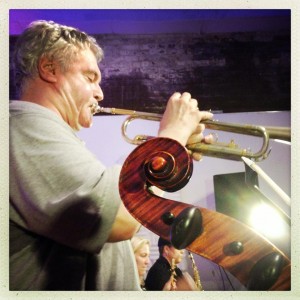 LYRIC FURY CORE MEMBERS
Cynthia Hilts – composer, piano, voice
Jack Walrath – trumpet
Lily White – alto & tenor sax
Lisa Parrott – soprano & baritone sax
Deborah Weisz – trombone
Leigh Stuart – cello
Ratzo Harris – bass
Scott Neumann – drums.
The musicians of Lyric Fury bring several worlds of expertise to the repertoire. Playing credits include working and writing with Mingus, numerous big bands, singer/songwriting, Broadway, and featuring in countless cutting edge and traditional jazz and blues ensembles. Each member approaches the music with her/his individual philosophy and voice, and a great enjoyment of Hilts's compositions
"…besides being original and creative, she has a great
blend of lyricism and complexity and chamber music…"
Scott Neumann – drums
"She makes the complex sound simple, and the simple sound complex."
Jack Walrath – trumpet
(Check out band members talking about their Lyric Fury experience.)